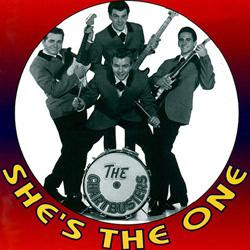 With a Billboard Top 40 hit working for them, The Chartbusters were one of the few new American bands getting radio attention during the early days of the British Invasion. Immediately in demand all over the country, Vernon and the group made television appearances on shows such as "American Bandstand" to go along with their suddenly plentiful gigs. They opened for the biggest stars of the day, including The Animals, Jan and Dean, Johnny Rivers, Chuck Berry, Herman's Hermits, The Lovin' Spoonful, Peter and Gordon, The Four Seasons and The Beach Boys, among many, many others.

During this time Mitch Corday shifted to the business side for the band and Chib Holmes was brought in as drummer. The Poe Kat and Mitch made a good team and in that capacity booked The Beach Boys for the first time into Washington, D.C., a market they continuously did well in. Also during this time The Poe Kat developed long lasting connections to the area radio community, including Harv Moore "The Boy Next Door", Jack Alix "J.A. The DJ", "Tiger" Bob Raleigh and Barry Richards "The Boss With The Hot Sauce".

It was also a golden time for me. The Summer of 1964 while The Chartbusters were climbing the charts, I had just completed 6th grade and was getting ready to enter Junior High School. I hadn't been into music much before that, but as soon as The Beatles hit, I became a lifelong fanatic. Not being able to buy much with my meager allowance, the radio became my gateway to a world of undreamed excitement. My friends with more disposable income began collecting singles like crazy and every time we'd get together there would be some tunes going on in someone's basement. I went to bed almost every night with a transistor radio next to my ear.


My dad and Mitch soon established themselves in the hippest part of Washington, D.C., which was Georgetown. They set up business at the corner of 28th and M Street and my dad kept his office there until 1980 or so. The building is shown here and is now the restaurant Zed's Ethiopian Cuisine.

The Chartbusters were also a fixture in Georgetown, appearing at The Round Table and later The Crazy Horse, among many others. Mitch and The Poe Kat soon began to expand their stable of artists (for booking and/or management) under the name of Paramount Artists. Early clients included The Kalin Twins, Willie and The Hand Jives, The Jumping Jax and The British Walkers, with The Shangri-La's coming on board later...