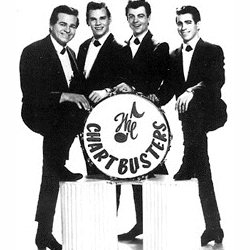 During this time, The Chartbusters continued their regimen of touring and recording. After "Kick Wheeler" failed to get much attention, the group released "One Bird In The Hand" b/w "Maybe". "One Bird In The Hand" did much better for the group, and was somewhat of a novelty tune. It could easily have been taken for a song by The Newbeats of "Bread And Butter" fame, with it's falsetto vocals and lively beat.

"One Bird In The Hand" was written by Frank Dillon, who had just joined the band on vocals and guitar. Frank is second from the left in the picture shown above. Since Frank remembers it like it was yesterday, we'll let him take over the story about the single in his own words: "At the recording session, after laying down down the instrumental tracks, we were ready to do the first vocal run through so that Ed Greene, the engineer and studio owner, could do a sound level check. I was in a goofy mood so instead of singing it in a natural voice as I wrote it and intended it to be sung, I sang it in falsetto as a joke. After the take we all laughed and I said, 'OK. Let's do it the right way.' Your dad said, 'Wait a minute. I want to hear that back.' It was decided that THAT was the one we were going with. I was embarrassed, chagrined and everything else. I made mistakes and blew lines, even though I wrote it. The advance copies were sent to the top radio stations and trades - Billboard, Cashbox, Music World, etc. It was getting a lot of play and was 'Pick Of The Week' in those trades. Unfortunately, Crusader Records failed to send it to the distributors, so you couldn't buy it. By the time your dad and Mitch figured it all out and got us away from Crusader and on Bell Records, it was too late. That, truly, is a classic example of bad timing on a hit that never was. Anyway, that's my story and I'm sticking to it. Thanks for keeping us alive."


So, since "One Bird In The Hand" HAD generated some trade attention and radio action, the band was quickly picked up by Bell Records. The Chartbusters first single for Bell was now a double A-side effort, with the aforementioned "One Bird In The Hand" on one side and the new song "Leavin' You" on the other. The new Bell single encouraged label and manager alike, even though the opportunity to have a hit with "One Bird In The Hand" had been squandered. However, the feeling was that if the band delivered a strong follow up, it would be time to put an album together...