The Poe Kat's father, Nelson Poe, was a traveling preacher and musician. He appeared on the radio throughout the mid-west. Nelson wasn't the best role model for my father and often was away from his family for years at a time. My grandmother, Ruth Lucille Poe, finally divorced him. The one piece of advice he gave my dad stuck with him, "In show business, if someone can get one rung up the ladder by climbing over your back, they will do it." Of course, that goes without saying these days, but I thought that was a pretty perceptive remark to be made in the 1930's.

I don't believe I ever met my paternal grandfather and no one ever heard a thing from him over the years. He died in 1996 in Wyoming. Shown here is a picture of Nelson Poe from the 1930's on the "Wake Up Montana" show on KXLL in Helena, Montana.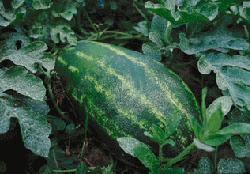 My dad's maternal grandfather, Daniel Bridgeman, could have given W.C. Fields a run for his money. He was always coming up with one outlandish scheme or another. One of his best was to buy watermelons and strategically lay them out in the weeds by his home. He would then make a big show of cutting the non-existent watermelon vine and bringing the produce to his customers. Many people would return to say that they were the best fresh-picked watermelons they had ever had.

But Grandpa Bridgeman was also a poet of sorts. Some of his poems are on display at a museum in his hometown of Vinita, Oklahoma. One of my favorite poems is one of his shortest: "Turn back, turn back, O time in its flight - and make me a child once more for tonight." Much later I was to discover that this poem bears a striking similarity to the first lines of a poem by Elizabeth Akers Allen, but that in no way diminishes my admiration for Grandpa Bridgeman's abbreviated version.

For all of the lighthearted adventures Grandpa Bridgeman was a part of, it was a sad tragedy that ended his life. Grandpa Bridgeman went out for a walk one night on the train tracks. Being completely deaf at the time, he didn't hear the train coming. A nice lawyer man got a big settlement from the railroad. For himself. The family got nothing...