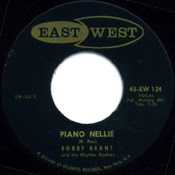 After the band's close call in the Colorado Rockies in the winter of 1958/1959, my dad was becoming a bit disenchanted with life on the road and the way his career seemed to stall. So he changed the band's name to Bobby Brant and The Rhythm Rockers in an attempt to take one final stab at the brass ring. Under that name, the band released a new single, "Piano Nellie" on EastWest Records. Their manager Phil Ladd - who lived in Scranton, Pennsylvania - secured a 10 day residency for the band at a hot club in Boston.


Boston seemed to rejuvenate the band, but money remained pretty scarce due to tight living expenses on the road. Each band member was allowed a total of $4.00 to eat on, which had to last for 10 days. Luckily there was a great hot dog place near the club, so the guys spent 40 cents a day and got 3 hot dogs and a chocolate milk, which was their breakfast, lunch and dinner COMBINED every day for each of the 10 days.

The club owners were keen to extend the band's residency, but as time went on my dad started picking up some strange vibes. The previous house band at the club featured a guitarist that had played with Chuck Berry. My dad heard that when that guitarist announced he was leaving the club, his hands became mysteriously broken. Not wanting to take a chance, my dad told the club owners that the band would love to stay, it's just that they had to make a quick trip back to Kansas because my dad's mom was "sick" - but, not to worry, they would return as soon as the crisis was over. Needless to say, the band never went back to Boston and, just to be safe, my dad hasn't set foot in the town since...